As Tinseltown's Honorary Mayor he was one of the community's most enthusiastic supporters for more than 50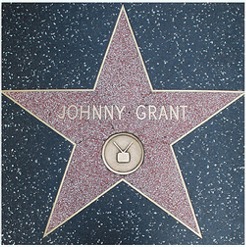 years. He served as Chairman of the Walk of Fame Selection Committee and the Hollywood Historic Trust. He not only created what was to become part of Hollywood's history, but had been a long-time supporter for preserving Cinema City's past. To that end, Grant was appointed to a four-year term on the City of Los Angeles' Cultural Heritage Commission.
When spectacular Hollywood special events were presented, more often than not you'd find Johnny Grant at the helm! He served as chairman and executive producer of the Hollywood Centennial Celebration, orchestrating Hollywood's year-long 100th birthday extravaganza.
He was the creator and producer of the "Welcome Home Desert Storm" parade, the largest single-day event in L.A.'s history. Television audiences around the world regularly saw him dedicating stars on Hollywood's Walk of Fame and helping immortalize the world's greatest motion picture personalities in cement in the forecourt of the fabled Grauman's Chinese Theatre.
Johnny Grant was Hollywood's most recognized spokesman!
The Academy of Television Arts & Sciences paid tribute to Grant in 1988, awarding him their highest honor, the Los Angeles Area Governor's Award. It was the second time that he had won the coveted Emmy, having had a total of fourteen nominations.
When Hollywood celebrated its centennial on February 1, 1987, Grant created a year-long birthday extravaganza that featured the glamour, excitement and glitter of the most famous community in the world. News media descended on Hollywood to cover virtually every aspect of the star-studded Johnny Grant production. Television audiences from England to Egypt and from Rangoon to Russia watched in awe at the myriad of celebrities and events from the town where dreams are made.
The Hollywood Christmas Parade was another recurring example of Grant's dedication to the revitalization of Hollywood. When the town's annual Santa Claus Lane Parade lost its luster, the parade's organizer, the Hollywood Chamber of Commerce, called Johnny Grant. When he signed on as parade producer in 1978, it was a reasonably popular, but strictly local, event. Grant rounded up 100 of Hollywood's most popular stars, the committee changed the name to The Hollywood Christmas Parade, and with the drive of Johnny's talent and personality, his 25-year tenure transformed the Parade into a nationally-televised festivity that had become one of the world's largest celebrity events.
He was one of the television medium's earliest pioneers and stars.
Beginning in 1946, he was host of the game show "Stop the Clock," which aired alternately on Dumont Television in New York City, WBGR-TV, Schenectady, N.Y. and WPTZ-TV, Philadelphia.
In 1949, Johnny Grant provided the color commentary to Tom Harmon's play-by-play of Pacific Coast Football games broadcast over one of the first regional TV sports networks.
1950 saw Grant serving as the daytime host for four hours daily on KECA-TV (later to become KABC Television).
Back to his first love, radio, Grant created and hosted Los Angeles radio station KMPC's "Freeway Club" from 1951 to 1959. He was the first disc jockey in the nation to intersperse regular traffic reports between his records and famous-name guests.
Grant appeared on the NBC Television Network 1953 to 1954 as co-host of "7 to 8," one of the fledgling industry's first infotainment shows immediately preceding "The Today Show" with Dave Garroway on the West Coast.
In January, 1965, Grant was accredited as KMPC's White House Correspondent. His keen insight into national politics combined with his warm style and occasional irreverent wit brought accolades from not only the listening public but a long string of White House residents.
The years 1969 to '71 saw Johnny again as a daily regular on television. He hosted KTLA's "Johnny Grant at Universal Studios," featuring celebrities from all walks of life and capturing some of their more candid conversations. This heralded the era of live television shooting regularly, for the first time, on a movie studio lot. He also did a three-year stint on KTLA's "News at Ten," with his nightly feature "Johnny Grant Backstage in Hollywood."
During World War II, while serving in the Army Air Corps, he broadcast from Seymour Johnson Field, N.C. and was aired on his "alma mater" station WGBR. He also was heard over New York's WINS Radio, where he hosted a special daily show for the millions of servicemen and women stationed, living, and simply passing through New York City on military duty. The show was called "Strictly GI," and featured not only news of interest to the troops, but interviews with some of the greatest and most popular entertainment stars of the day.
Back on the commercial airwaves after the war, Grant continued doing news features with WINS. To this day, he has vivid memories of the wide variety of stories he's covered throughout his career. He was on the scene in 1945, shortly after a B-25 bomber crashed into the Empire State Building and was the only radio reporter on the air March 18, 1946, when Andrei Gromyko angrily walked out of the United Nations Security Council Chamber.
Grant recalled his chats with the legendary Babe Ruth, Jack Dempsey, Ty Cobb, Eleanor Roosevelt, Great Britain's Sir Anthony Eden, Captain Eddie Rickenbacker, Admiral William F. Halsey and more.
Along with Bing Crosby, Bob Hope and Frank Sinatra, Johnny co-hosted the first national telethon ever produced, a fund-raiser to help send America's Olympic athletes to Helsinki in 1952. He was one of the creators of the Arthritis Telethon and was affiliated with the show as producer/co-host for 20 years.
Grant also served as producer and host of the United States Marine Corps Reserve's "Toys For Tots" Telethon for ten years. With his ebullient style, Grant was one of the West Coast's most sought-after masters of ceremony, and had emceed more than 5,000 civic and charity events.
Through his humanitarian efforts, Johnny had also produced hundreds of these events, raising millions of dollars for the USO, Boy Scouts of America, the Arthritis Foundation, police and fire services, veterans organizations, etc.
His service to his country includes 15 trips to Korea and 14 gut-wrenching tours to combat bases throughout Vietnam… in all, a monumental 60 USO and personally-organized visits to bring laughter, encouragement and the spirit of America to GIs overseas. Some of the celebrities who accompanied Johnny on his tours included: Angie Dickinson, Jane Russell, Penny Singleton, Debbie Reynolds, Connie Stevens, Diane McBain, Jayne Mansfield, Rita Moreno, Ann Sheridan, Stephanie Powers, Patricia Neal, Linda Darnell, Terry Moore, Julie Newmar, Piper Laurie, Mala Powers and Vicki Lawrence. His good friend Bob Hope often quips that he (Hope) is the "rich man's Johnny Grant!"
During the Korean War, Grant's "GI Phone Fund" provided wounded servicemen with free telephone calls home when they arrived at California's Travis Air Force Base hospital. Johnny's 12th trip to Vietnam brought high praise from General Creighton Abrams, Commanding General of U.S. Forces there, as he pinned Grant with the Army's Outstanding Civilian Service Medal. Since then, Johnny's amazing dedication to our armed forces personnel had been recognized with The Army's Legion of Merit, two awards of the Meritorious Service Medal, an Army Commendation Medal and Distinguished Civilian Service Medals from the Department of Defense, Department of Army and Department of Navy on behalf of the Marine Corps.
Johnny spent Christmas of 1982 and '83 entertaining U.S. Marines in Beirut, Lebanon, and was the only Hollywood personality to make two trips to visit our troops in Saudi Arabia during Desert Shield/Storm. He had made five visits to the Balkan countries of Kosovo, Bosnia and Macedonia. During these trips, he took the opportunity to re-establish a longtime association with the Armed Forces Radio and Television Service (AFRTS) by appearing on Christmas Day Specials on the AFN in Frankfurt, Germany, whose radio signal covers almost half the world. During both the Korean and Vietnam wars, Johnny hosted daily hour-long disc jockey shows for AFRTS.
Grant was a retired Major General in the California State Military Reserve, the all volunteer backup and support force of the California National Guard. He was sought out to advise the Guard in his areas of expertise — morale, public affairs, recruiting and special events.
On November 24, 1982, he was promoted to the rank of Major General. Grant was assigned to and served as a Special Assistant to the Commanding General, California National Guard.
Though retired, he continued to be recalled by California's Adjutant General for special duties.
In 1982, the State of California showed their appreciation for Johnny's 30 years of service by awarding him The Order of California, the State's highest honor. Governor George Deukmejian, in an unprecedented act, awarded Johnny a second Order of California at the State Capitol in 1990. General Grant was also the recipient of the National Guard's Medal of Merit.
In June of 1999, retired Major General Johnny Grant was recalled to temporary active duty to promote and produce events saluting the California National Guard on its 150th Birthday.
Grant served as the chairman of the California Committee for Employer Support of the Guard and Reserve. In this role, he headed the statewide committee that assured members of the reserve forces that they would receive fair treatment by their employers, would not be penalized for absences for military service, and would be guaranteed their old jobs after demobilization.
Johnny had a list of honors and awards virtually as long as Sunset Boulevard and enough energy to light the Hollywood Sign. He was the first — and only — recipient of the Bob Hope Combat Entertainer Award from the International Korean War Veterans Association for his entertainment tours to the front lines. The award was presented personally by Bob Hope.
He was also the recipient of the General Matthew B. Ridgeway Award for patriotic and valorous service above and beyond the call of duty. Johnny is one of the few recipients of the Combat Entertainer's Badge (CEB), presented by the 25th Infantry Division in Vietnam. He received a second CEB on the 4th of July, 2001, while entertaining soldiers of the 2nd Infantry Division serving on the DMZ in Korea. The award, in the spirit of the Combat Infantryman's Badge, is for entertaining troops in the combat zone.
The Los Angeles Press Club honored Johnny in 1987 with their prestigious "Legends of News Award." It is presented to persons who, through the years, both locally and nationally, have played a major role in keeping us informed of worldwide events. Among his other major awards were The Variety Club's Heart Award, an Honorary Doctorate of Laws from Pepperdine University, Childhelp USA's Annual Sweetheart Award, Holland's Golden Heart Award for his service to the Walk of Fame/Europe, The Order of Merit from Russia and the USO's Distinguished American Award, which put him in the company of President Gerald Ford, General of the Army Omar N. Bradley, Bob and Dolores Hope, Gene Autry, Roy Rogers and Dale Evans, Nancy Reagan and General James Doolittle.
On December 5, 1997, Johnny was the first recipient of the USO's highest honor — The Spirit of Hope Award — presented to him aboard the USS Intrepid.
The Cowboy Hall of Fame acknowledged Johnny's love for western traditions when they awarded him the "Wrangler Award" in recognition of his outstanding contributions to America's western heritage through television programming in 1982. Four years later, in 1986, Johnny Grant became "The Man of the West" of San Dimas' popular annual Festival of Western Arts. His selection for this important honor was based "…on his independence, resourcefulness and generosity, which typify the spirit of the West."
A man of many and varied interests, Johnny continued to wear many "hats." He had served with distinction as President of the Los Angeles City Fire Commission, Los Angeles County Social Service Commission, the Police Commission of Burbank, as a White House appointee to the national USO Board of Governors, as International Ambassador to United Nations Forces for the International Korean War Memorial. He was Chairman of the Selection Committee for the Hollywood Walk of Fame and Chairman of the Hollywood Historic Trust. He had served on boards of the Bob Hope USO, the Arthritis Foundation and the Los Angeles Council of the Boy Scouts of America. He served on the board of the Hollywood Entertainment Museum.
Johnny received his star on the Hollywood Walk of Fame in 1980 for his contributions to television and for his massive involvement in and support of the Hollywood community. His star is located in front of Grauman's Chinese Theatre, between those of Zsa Zsa Gabor and his one-time Army Air Corps Commanding Officer, Glenn Miller. Johnny's ceremony drew one of the largest crowds ever to attend a Walk of Fame dedication. It included Southern California's top civic, political and entertainment industry leaders and stars, a special fly-over by aircraft of the Civil Air Patrol, a task force from the Los Angeles City Fire Department saluting their former commissioner, and the California Army National Guard's 40th Infantry Division Band performing their newest composition, "The General Johnny Grant March."
In June of 1995, All three living Mayors and former Mayors of Los Angeles — Sam Yorty, Tom Bradley and Richard Riordan — gathered with a host of Hollywood's biggest name stars in an unprecedented forum to help dedicate "The Johnny Grant Building" on Hollywood Boulevard. The building houses the Hollywood Chamber of Commerce, the CRA and other community-based organizations. Mayor Bradley later said that Johnny Grant was the only man who could have gotten all three mayors together!
On May 13, 1997, Johnny was honored with another of Hollywood's oldest and most prestigious traditions — a hand-and-footprint ceremony in the forecourt of Mann's Chinese Theatre. The ceremony included an Air Force fly-over, a mini-parade led by the Hollywood High School band and Grant's spectacular arrival at the Chinese Theatre in a rickshaw, escorted by six LAPD motorcycle officers with red lights flashing and sirens blasting. Amidst all the frolicking and hi-jinks taking place during the celebrity studded ceremony, Johnny misspelled his first name, leaving out an "N". Commenting on the carnival-like atmosphere, Grant later said, "This is the way my old friend, Sid Grauman, would have wanted it." The next day TV game show hostess Vanna White brought Johnny his missing "N". Grant, Jack Nicholson and Robin Williams are the only three people who have both their Walk of Fame stars and their hand-and-footprints in front of this famous movie palace.
Johnny Grant's career in the entertainment industry spanned more than 50 years. In addition to his pioneering activities in radio and television, he was a respected motion picture actor. He enjoyed life-paralleling feature roles in such film classics as "White Christmas" with Bing Crosby and Danny Kaye, "The Babe Ruth Story" with William Bendix, and acted with his pal Bob Hope in "Beau James." Johnny played himself in "The Oscar" with a host of Hollywood's big box-office names.
On December 7, 1960, Johnny was both surprised and honored as the subject of Ralph Edwards prime-time NBC hit show "This is Your Life," with family and friends flying in from all over the world to participate. Tribune Broadcasting recognized his achievements and contributions with a two hour prime-time television special, "Johnny Grant: The Mayor of Hollywood," celebrating Johnny's 50th anniversary in show business. The show was hosted by Angie Dickinson, and featured a number of Hollywood's greatest and most popular film and television stars.
Johnny has starred as himself in ABC's "China Beach," "The Boys" and "In Living Color."
In 1991, at the conclusion of the Persian Gulf War, Johnny created and produced Hollywood's "Welcome Home Desert Storm" Parade, the largest single-day event in the history of Los Angeles. While the emphasis was on the men and women of "Desert Storm," Johnny made certain that all of America's veterans were honored for their valor and sacrifices. The WWI veterans rode floats, WWII troops rode in period equipment, Korean vets rode trams and some even marched, and our Vietnam vets — hundreds of them — proudly fell in rank and file behind their wartime commander, General William C. Westmoreland.
With squadrons of aircraft flying overhead representing America's aviation history from bi-planes to Mach Two fighters, and with military equipment from WWI ambulances and tanks to the Gulf War's Patriot Missile rolling along Sunset and Hollywood Boulevards, the world was shown the true patriotic spirit of America in the Twentieth Century. It was one of the greatest days in the history of Hollywood and was televised worldwide.
One of Johnny's favorite hobbies was photography. During the Vietnam War, he provided America's military newspaper, Stars and Stripes, with many of the glamorous pictures of starlets and models published on their pin-up pages. Other recreational activities included chatting with friends, old and new, on his ham radio, and horseback riding. Johnny also enjoyed spending time researching Hollywood's legends and myths for a book he was writing.
Proving once again that there was more to the man than simply the public image, one of Johnny's most satisfying projects was his participation as producer and host of "Operation Understanding" in Washington, D.C. on May 8, 1976. Here, 52 prominent recovering alcoholics "went public" with their affliction. This was the first major effort to remove the stigma from alcoholism, and to encourage others to seek help with alcohol and drug dependency problems. That project has helped countless thousands on the road to recovery and reclaimed otherwise productive lives.
At the request of his long-time friend, Gene Autry, Johnny produced a star-studded series of pre-game events leading up to Major League Baseball's 1989 All-Star Game held in Anaheim Stadium. For his spectacular job as coordinator/producer, Johnny — a lifelong fan and one-time player — was presented with an All-Star Game ring by the Commissioner of Baseball!
During the dedication ceremonies for the Nixon Library in Yorba Linda, California, Johnny was honored to personally introduce four Presidents of the United States and four First Ladies (Nixon, Ford, Bush and Reagan). He also emceed the opening of the Reagan Library, with five Presidents participating. United Nations officials selected Johnny Grant to serve as United Nations Day Chairman in 1992, and honored him for his lifetime contribution to world peace. Earlier that year, Johnny attended the International Peace Conference in Prague at the invitation of Czechoslovakian President Havel. In Rotterdam, Holland, he was saluted with the first-ever ticker tape parade on the European continent when he officiated at the opening of their version of the "Walk of Fame" ceremonies.
In the late winter of 1992, Johnny was invited by Russian officials to head a delegation of entertainment and military representatives traveling to Moscow to meet with Kremlin, Moscow City Government and Church leaders to discuss areas of mutual concern. The Russians had seen a number of Johnny's parades and other productions, via satellite and CNN, and sought his advice and support.
On February 1, 2002, Johnny was honored with a special, one-of-a-kind Walk of Fame star, bearing the Hollywood seal, and located at the entrance to the Kodak Theatre. At this same ceremony, the new street off Highland that leads into the Kodak Theatre was dedicated as "Johnny Grant Way," in honor of a man who had made incredible contributions to his adopted hometown of Hollywood.
On April 25, 2002, Johnny was recognized by the Central City Association at their annual luncheon as a "Treasure of Los Angeles," a tribute to individuals who have enhanced the fabric of Los Angeles and who embody the spirit of community.
Speaking with this one-man United Way and International Task Force, you immediately learned two things: First — telling him "no" is like waving a red cape in front of a bull; and second, there are no such things as 'problems,' … only challenges. And Johnny Grant has never met a challenge he didn't enjoy.